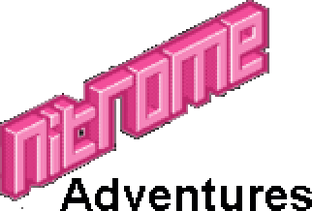 Nitrome Adventures
is a series on
Felipebross Studios Network
which made it's debut originally on DreamTV on November 11th.
On DreamTV
Edit
Nitrome Adventures first premiered on DreamTV as the first cartoon to be made by a different person for the channel. It had three episodes on DreamTV before the DreamTV channel stopped broadcating on analog.
Nitrome Adventures made it's premeire on FSN on November 20th, 2013. A fourth episode is planned to be released on December 27th. A preview of this episode, Titled 40000 Jiggawatts, was released on December 14, 2013.
Characters
Edit
Ad blocker interference detected!
Wikia is a free-to-use site that makes money from advertising. We have a modified experience for viewers using ad blockers

Wikia is not accessible if you've made further modifications. Remove the custom ad blocker rule(s) and the page will load as expected.